Mid- Autumn Festival x Tayo Station
12:00 AM
Sep 1, 2023
E!Avenue Event Square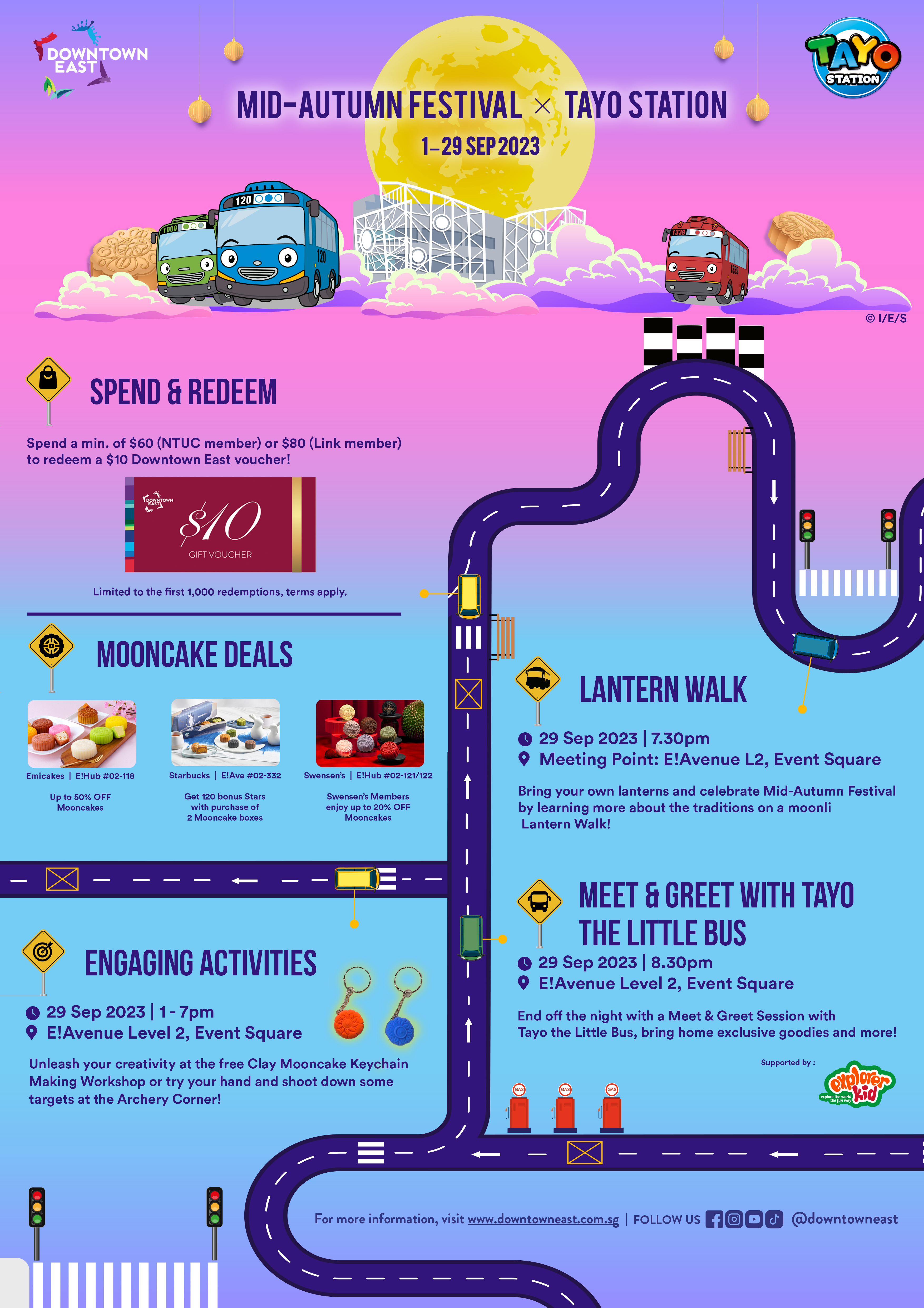 Get ready to embark on a delightful journey as we celebrate a bus-tling Mid-Autumn Festival in September with Tayo and Friends at Downtown East. Get this: Our well-loved lantern walk returns following its successful run in 2019, alongside an exciting repertoire of programmes that's going to wow the kids and families!

Lantern Walk with Tayo the Little Bus
29 September, Friday, 7.30 - 8.30pm @ E!Avenue Event Square

All are welcome to join the relaxing stroll under the full moon from Downtown East, Event Square, to Piai Plaza at Pasir Ris Park, while parading your favourite lantern. While on route, look out for the adorable Tayo standees illustrating the classic tale of Chang E and Hou Yi as well as age-old festival customs.
Register for this free lantern walk here.
Meet & Greet with Tayo and Lani
29 September, 8.30 - 9pm @ E!Avenue Event Square
The wheels of excitement continue to turn as the lovable Tayo and Lani mascots join the celebration at Event Square, where all participants gather after the lantern walk. Sing along with Tayo and Lani to songs, share your favourite part of the lantern walk or best Mid-Autumn Festival memories with our emcee, and walk away with prizes!

Kids Archery Corner
29 September, 1- 7pm @ E!Avenue Event Square
Let your little adventurers take aim at the one-day-only archery corner, where even
the uninitiated can put on the shoes of the god of archery, Hou Yi, and experience some fun with safe plastic arrows and trial targets.
Clay Mooncake Keychain Workshop
29 September, 1- 7pm @ E!Avenue Event Square
The little ones can also unleash their creativity and craft season-befitting clay
mooncake keychains – join the free exclusive workshops* and create charming
masterpieces, then carry your creations around to add a touch of festivity.
*Up to 16 slots available per 15-minute session, for walk-ins only on a first-come first-serve basis.