SPACE OUT! @ DOWNTOWN EAST
12:00 AM
Nov 4, 2022
Downtown East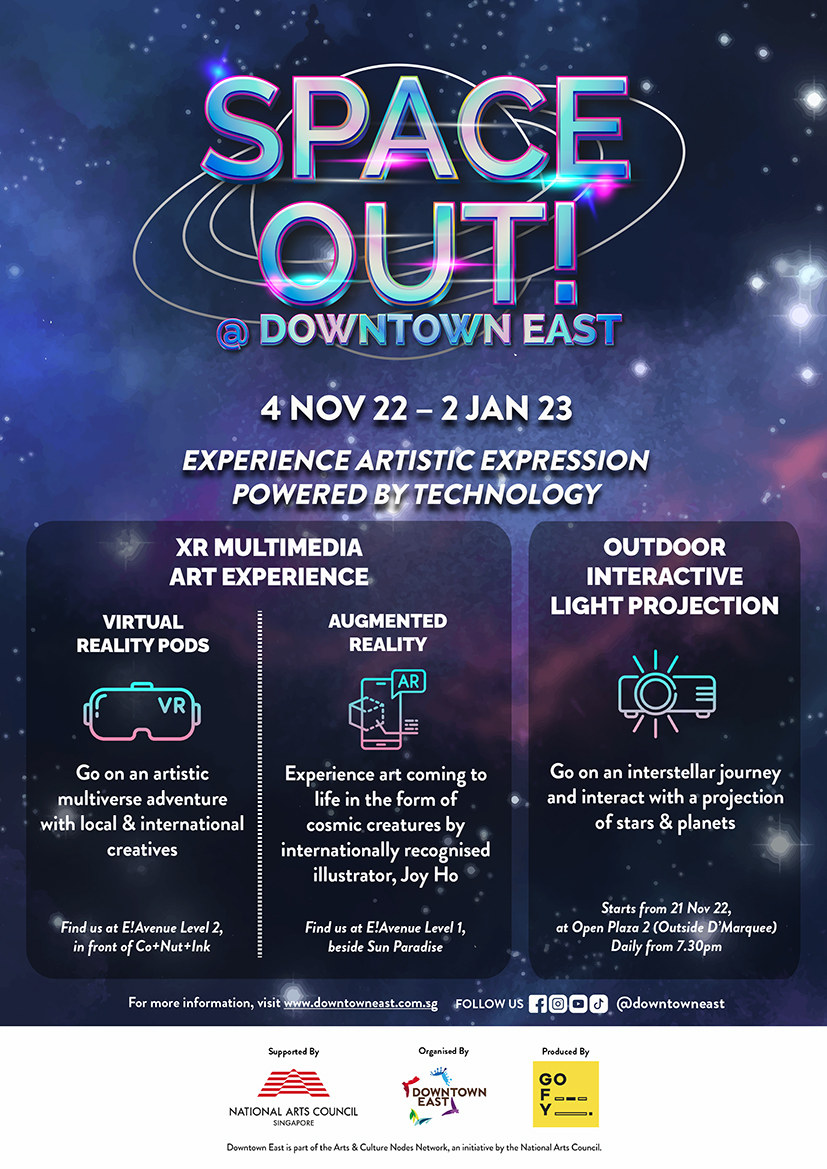 Watch the full video here.

SPACE OUT! invites you to see our world like you've never seen it before. Through interactive XR and new media experiences, you'll unlock the possibilities of creativity and witness fantastical new environments right in front of your eyes.
XR Multimedia Art Experience
Virtual Reality Pods
Embark on a journey beyond limits with VR painting artworks by local artists Christine Lok, Fauxe, ScRach MarcS, tobyato and YANGERMEISTER, and breathtaking 360° outer space videos by SpaceCinema. Get a chance to experience creating your own VR paintings with the world as your canvas and your imagination as your palette from now till 2 Jan 23.
Augmented Reality
If you could create your own planet, what would it look like? From now till 15 Jan 23, view an AR-enhanced digital mural by visual artist, Joy Ho who imagines a world of cosmic creatures living in perfect harmony...or so it may seem.

Outdoor Interactive Light Projection
Be transported to the surface of Mars and the Moon, where you can interact with the starts and planets. Starts from 21 Nov 22 till 2 Jan 23, daily from 7.30pm-10.30pm.


*Extended hours apply for NYE countdown.



Find out more about the event & artists!
SPACE OUT! Programme Booklet (Digital)

Share your experience with us! Take a quick survey here.