Tayo Station
Operating hours:
Weekdays : 10.30am - 6.00pm
Weekends: 10.30am - 8.00pm
E!Hub #03-112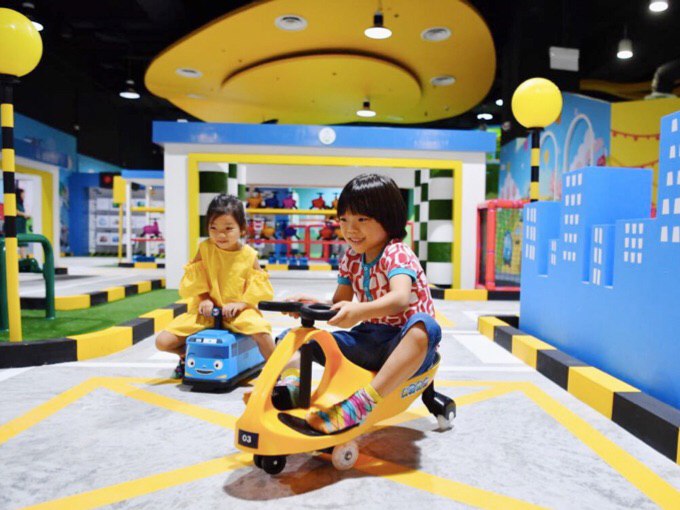 Tayo Station is themed around the South Korean animated series (Tayo The Little Bus) that follows Tayo and his little bus friends who often discover new sights and go on exciting adventures every day in the big city.
Tayo Station spans a massive 10,000-square-feet-space that integrates indoor playground attractions, edutainment area and sensory play space for young children from 1 to 12 years old. These include the Tayo's Road Circuit, Poco's Hinoki Play, and Gani's Playground, and many more that is created to entertain while offering a healthy level of challenge for the kids to overcome.
To note:

1. Maximum Capacity
To enable a smooth transition for reopening, Tayo Station will be operating at 25% of it's max capacity for a start, in-line with the Government's regulation. There will be maximum capacity of 54 pax per play session, inclusive of adults and children. This is also to ensure there is ample of space for social distancing.
Additionally, due to limited capacity; the ratio of adults to children must be regulated to 2 adults : 1 child. This is to prfioritize the play opportunity for as many children as possible.
2. Pre-booking of Session Play
All guests are required to purchase Tayo Station's admission tickets online and also pre-book a preferred session play & date on Tayo Station's website: www.tayostation.com/

3. Cleaning Regime
Cleanliness and safety have alway been of utmost importance. The crew in Tayo Station will extensively clean and sanitize the park daily after each session and at the end of the day. In addition, high touch surfaces and Tayo cars will be sanitized hourly. Not only that, Tayo Station is SG Certified!
Gallery