Tiong Bahru Jian Bo Shui Kueh
Operating hours:
7am - 9pm
E!Hub #02-112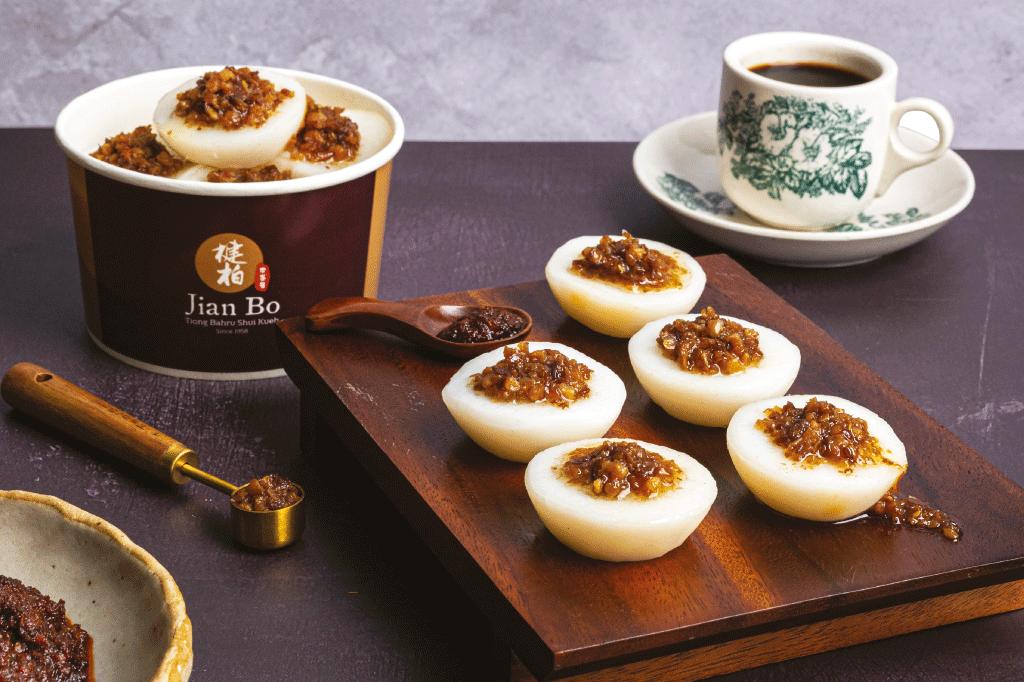 Tiong Bahru Jian Bo Shui Kueh started out with a stall at the enigmatic Tiong Bahru Market way back in 1958. Its humble signature dish known in Singapore as Shui Kueh (steamed rice cake) has sustained and grown the business over the years.
For over 60 years, the brand has delighted locals with its robustly- flavoured Shui Kueh dish; uniquely fragrant chye poh (pickled radish) topping, and dried prawn chilli, all spooned together over delicately-textured plain rice cakes for an unforgettable, mouth- watering experience.
Today, the brand continues to be the standard bearer for this unique dish with the largest network of outlets in Singapore. It is the enduring heritage food brand whose name and flavours can be passed on from one generation of loyal followers to the next.
Our legendary Shui Kueh
Riding on to the shift towards healthier lifestyle and food options, Jian Bo Tiong Bahru Shui Kueh has kept our faith of serving our signature shui kueh dish using the exact original recipe while only making a switch from the use of pork lard to healthier alternative with 100% vegetable oil.
Using only the finest ingredients handpicked and checked for quality, our steamed rice cakes, chye poh (preserved radish) and chilli are freshly prepared in our central kitchen every morning, leaving them to chill in the afternoon before its delivery to all our outlets each night.

Spoilt for choice with more than just our signature Shui Kueh
Although the imitable shui kueh remains as the superstar offering, Tiong Bahru Jian Bo Shui Kueh also hosts an armada of other delectable traditional Chinese foods such as yam cakes, rice dumplings and Peranakan desserts.
Gallery